H
ello
E
veryone!
This little post is about further developments within our & Son feature coming very soon. We thought we should demonstrate the inclusion of 2D assets into 3D by making a little post showing the components in and out of the 3D Maya workspace. However, this is not to say that we do not have a slice of animation to show. Please check out the video below, comments appreciated!
These shots are primarily following the integration of 2D characters into our 3D playblasts. There have been a couple of camera adjustments to shots 58 and 59. Shots 60 & 61 are solely based on 2D planes within Maya, one camera moving one not.
The images above were drawn by our artist Chrissie Peters, it is now our job to place them on planes within Maya using alpha channels. Each plane will disappear and leave us with a flat character for use in static (and in some cases) non static. The animated 2D planes are quite huge in size but they add extra motion to our "flat" world.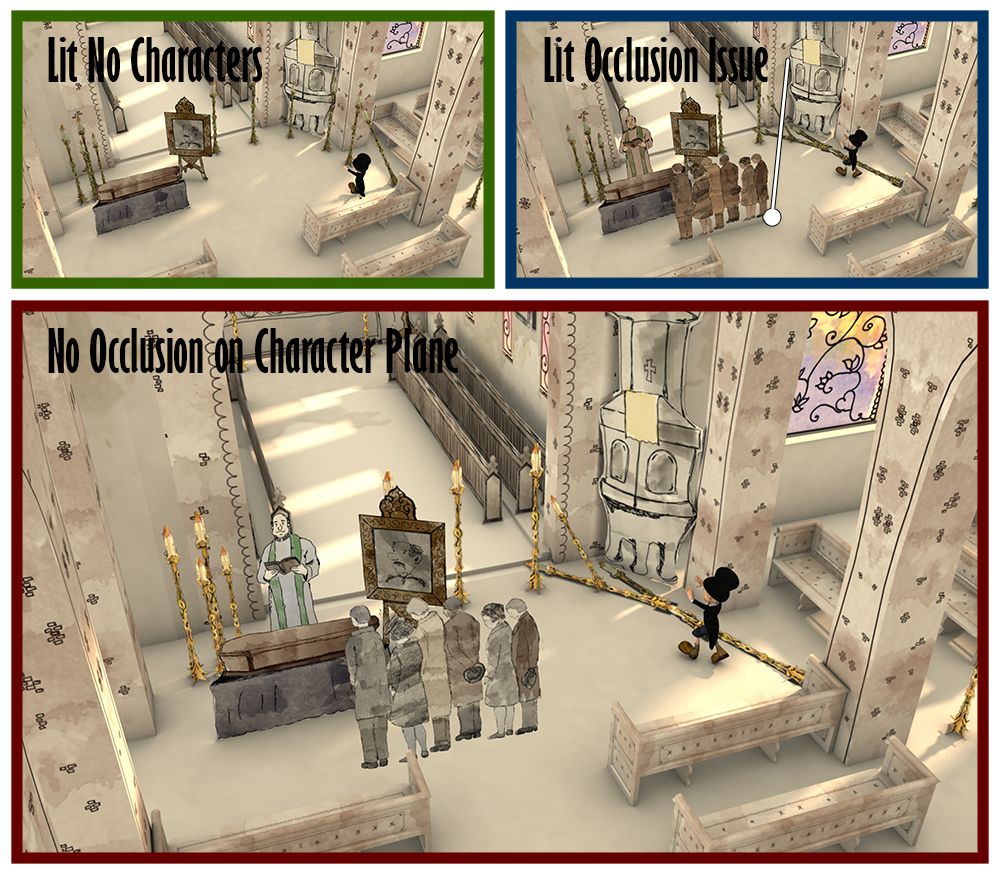 The images above show the progression of adding the 2D characters to this scene. The first shot is with no characters at all to show the original with light and occlusion. The second is the planes with light influence and Occlusion on the ground plane... The problem with this is it made a horrible dark line at the base of the plane. The final shot shows the character plane with occlusion ignored with "miLabel" the only problem we found with this is characters don't appear to be rooted without shadowing.
Last but not least are 3 rendered shots of our 2D characters within our final lit interior church setting. Each shot is taken from a different scene (59, 60 & 61). Movement with the 2D characters is minimal for these particular shots but we wanted to show how they all look within the lit Maya environment. Whatever we decide over the next couple of weeks we are happy to be on good form with the interior environment which was originally quite flat... gotta love occlusion.
Later!
xXStItChXx