H
ello
E
veryone,
This will probably be our last pre-production post unless there's any time at the end for a couple of little extras. We still have a few surprises planned so keep your eyes peeled for those. In the meantime this will be the last look at the character rigs as we feel they have been kind of covered to death now. We just want to show you what will be achieved now that we have everything ready.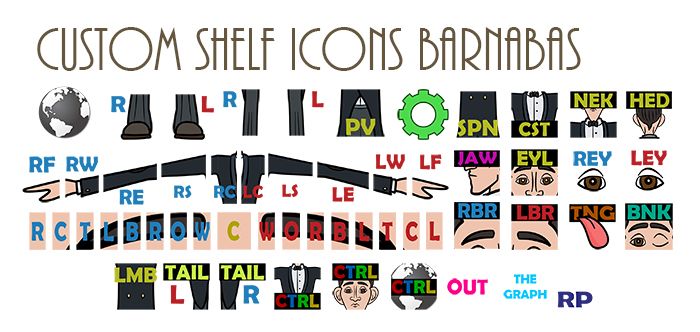 The Barnabas custom controls are mostly like Benjamin's with a couple of little extras which were not afforded to Benjamin at the time the shelves were built. The tail is controlled by 2 controls instead of one which was a way of keeping a less cluttered channel box. The big feature though is the RP button which wipes out all translate and rotate values to 0 not requiring the manual reset to t-pose.
The video above shows the creation of the Icons for the Barnabas shelf. We set the buttons themselves up as we went along rigging the character. However the Icons probably took the longest to setup as they have specific labels and visual aid which cannot be rushed. The video is in time lapse fashion so please just take it for what it is... a nice little extra "behind the scenes" as it were.
Next the image above is the Barnabas model in the viewport with his shelf sitting comfortably at the top of the Maya window. The controls are also accessible in the viewport mainly because the icons do not allow you to select multiple controls. Again this is something ventured and if there is time we will sit to address the issue... In the meantime though its important that everything works accordingly.
To conclude is the functionality video of the Barnabas model, this demonstrates the functions of the rig within the channel box. This in most cases goes beyond the simplistic translate and rotate controls but can enforce blend shapes and set driven key animations. These are created custom attributes which really do improve the functionality of a character. We hope you enjoy this little breakdown :)
Over & Out!
xXStItChXx